The Red Fox, also known as the common fox, is the largest true fox. These red fox cubs are very cute and alluring to photograph. Red Foxes inhabit the Northern Hemisphere, including North America, Europe, Asia, and North Africa. The red fox is known for its cleverness and intelligence. Mostly creative people and thinkers like red fox cute pictures and wall art for their space. Red fox pictures always motivate you to think.. If you want a feeling of intelligence in your space, check out our red fox fine art pictures.
CUTE RED FOX PICTURES FOR DECORATION
Cute Red Foxes are smart, clever, solitary, and crafty animals. We love the intelligence and solitary behavior of these red foxes squirrels. These abilities spark our imagination. Due to this love, we fulfill our responsibility by creating beautiful Red fox pictures. Which become outstanding artwork for decoration that shows how amazing these animals truly are.
With these unique red fox images, you need something stimulating to motivate you to be creative. If you want something that reflects who you are and lends itself to complementing your space! Let Ejaz Khan fine art photography inspire the decor for your home.
These minimalist-inspired pictures of red foxes are the best compliment for your space.
We love cute red foxes for their intelligence and the way that they just go about their own business without being a pest or intruding anywhere or on anyone. Maybe that's because they're such pretty little things? Due to this love of solitude, we are inspired to create stunning images of red fox cubs in photographs that will become outstanding artwork suitable as decoration for any room, be it your office space or your home-based at home.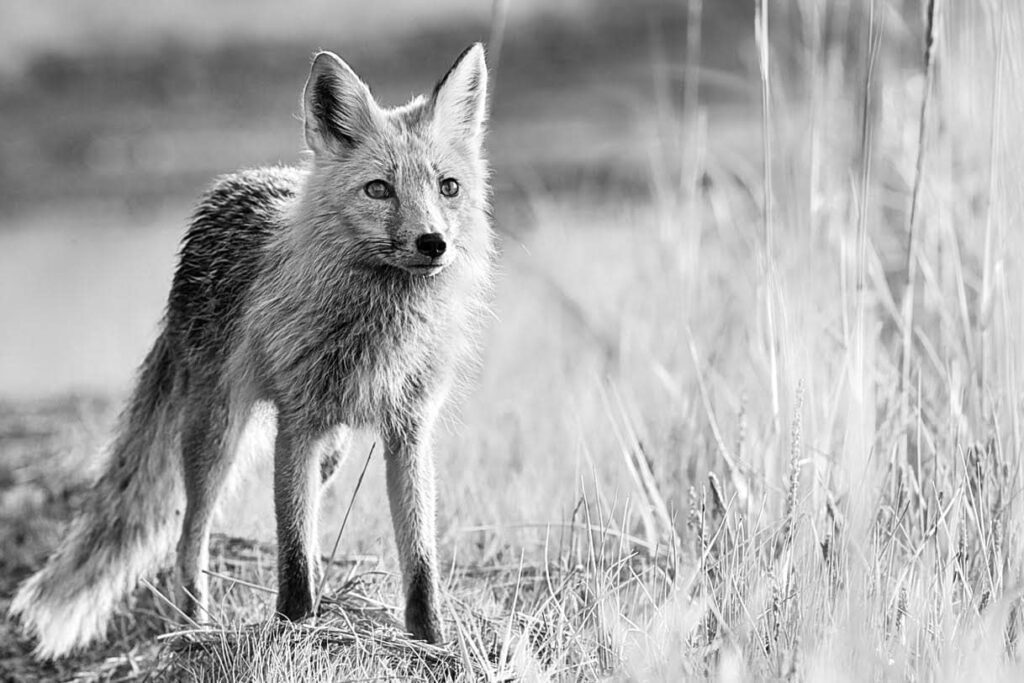 RED FOX FUN FACTS
Red foxes or squirrels are monogamous, having only one mate at one time.
They have great communication skills and can identify voices and create 28 different sounds to communicate.
They can compete with blackbuck Antelope in running one of the world's fastest animals. Red foxes can run up to 45 mph (72 km/hr).
Their babies are called pups, and the word vixens are used for females. There are also some non-breeders female foxes called nannies. They take care of their pups.
Red fox has super sharp hearing sense and can hear the sound of a ticking watch 40 yards away.
The most important fact is that it is illegal to relocate foxes in North Carolina. So take care before removing fox from your land if you live in North Carolina.
Ejaz Khan fine art photography dedicates to creating awareness for red fox conservation.
WHY CHOOSE IMAGES OF RED FOX CUB AS AN ART?
They are popular subjects for photography because of their vibrant coats and animated facial expressions, making them particularly alluring. With these unique red fox images, you need something stimulating to motivate you to be creative, which makes these minimalist-inspired photos perfect if you. Want something that reflects who you are but also lends itself to complementing your space?
If you have an intriguing and intelligent personality and want to express yourself through art, then images of the red fox are the best choice. They are solitary animals and have delicate faces and bushy tails. Mostly creative and smart thinking people like Red fox pictures and wall art for their space.
BLACK AND WHITE RED FOX PHOTOGRAPHY
The red foxes cubs are clever and have been known to have a high level of intelligence. Photographing red foxes isn't an easy task. Red foxes have very advanced hearing, meaning photographing something so beautiful and so striking means that one must be attentive and smart to get the perfect shot.
Modern technology has developed some tools for wildlife photographers that allow us to maintain a sharp focus on our subjects even in adverse weather conditions; it's also useful in tracking very difficult animals like the elusive red fox to photograph! Amongst all of our amazing wildlife photographs of red foxes or squirrels, you'll find broken tree branches arranged in prominent areas of the photo, a sure sign of the predatory instincts of these wild creatures and how accurately these wild animals hunt for their prey.
The best way to take beautiful and perfect Red fox photographs is by understanding its behavior.
There are beautiful black and white pictures of a Red fox in our gallery which will touch the souls. What's your favorite red fox picture from Ejaz Khan fine art photography?