Decorating your home can be an exciting yet scary endeavor. Selecting between the different embellishments, wall hanging decor and other adornments can be dizzying. After all, simply walking into the different rooms of a home can speak volumes about the person who put them together. Their passions, struggles, stories, and personality are all on display through the media that decorate their living spaces.
It's no wonder that so many people employ wall art for just this task. Wall hanging decor is an incredibly versatile medium as it places it's owner's individual tastes at the focus of the room. Within moments of entering a room, your gaze is carried to the walls and their adornments them and almost immediately, the mood and tone of the home are set.
Using Art to Define the Energy of a Room
Each room in a house is the backdrop for different parts of our lives and therefore can induce very different emotions. Selecting the appropriate wall art to properly conduct the energy in each room can be tricky, but the right choice can polish up any room and make it feel a lot more like home. So how does one go about creating the atmosphere of a room with art?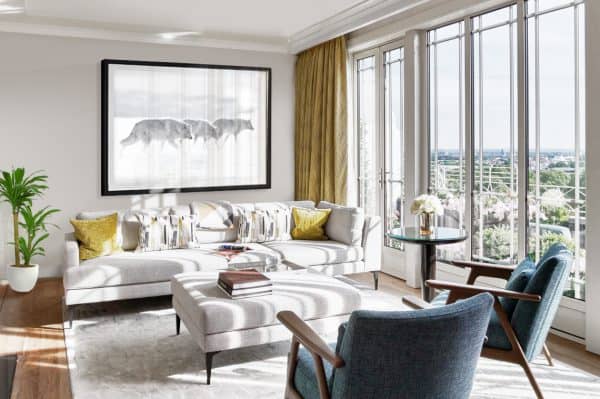 VIEW MORE PICTURES OF ARCTIC WOLVES
The Living Room
Mostly used for entertaining and relaxing, this room is usually the centerpiece of any home and often the most intimidating to decorate. While it can be tempting to play it safe with this room, it is important to go for whatever excites you the most. Wasting this great space on embellishment that doesn't connect with you is a lost opportunity for a great conversation starter and setting the feel of the rest house. Popular choices for this space are a single large-scale piece or an extensive gallery of wall art. Living rooms are often areas of life, energy, and personality so pieces that mirror and radiate these help to establish such qualities. Images portraying action, movement, or bold shapes are great ways to achieve this. Contrasting themes, like hanging contemporary wall art in a traditional living room, can be a great way to create interest in the space as well. Additionally, investing in a statement piece for the living room can give you a starting point to build the rest of the room around.
The Bedroom
The room where you unwind from and prepare for your hectic life can set the tone for your whole day. Bedrooms embody a sense of tranquility, peace, relaxation and are typically the most personal rooms in a home. You want to feel peace and connection with the ornamentation you surround yourself with when you retreat from the world. Abstract pieces, soothing colors or tones, images of nature and vast landscapes are great choices for maintaining the serenity of this room. Blues, greys, and beiges are perfect color palettes to work with when establishing a calmer environment. The best places to display wall hanging decor are above the bed or directly opposite it. Additionally, you can hang two smaller pieces of wall hanging decor on either side of your bed above your side tables to create symmetry. Always opt for pieces that are the same length or smaller than the bed or furniture they hang above. You can also balance the room by placing a larger horizontal piece above the bed and filling the wall opposite with a gallery of art. This allows you to have more flexibility in curating the feel of the room.
The Kitchen
Arguably the most important room in your house, the kitchen is frequently rejected when it comes to adornment. However, this part of your home deserves just as much attention as the others since we spend so much time here. The difficulty with this room is that it tends to be crowded with appliances and lacks free space. Smaller or more modest pieces tend to work better for kitchens as a result. Keeping this area clutter-free and avoiding busy pieces can have things moving smoothly and keep everyone's stress levels down. Contemporary wall art is a great choice for keeping up the simplicity of this space and giving a cleaner look to the room.
The Office
When you're in this space you're likely focusing on getting a task done, meeting a goal or working on something you're passionate about. That's why it's important to surround yourself with art that will help you channel the energy to support this. Use this space to display wall art depicting action, power, and drive. Conversely, you can also use it to hang up work that makes you feel content or simply motivates you to power through your day. Bright colors and high contrasts are elements that can pique the viewer's interest and wake up the room. Even if you aren't always completely enthusiastic about the work you do in this room, it helps to have art that inspires you to push on. You may wish to select moderately sized pieces for this room so they don't overpower the room or distract you as you work.
The Bathroom
The last room that people usually think to decorate beyond a bowl of potpourri and nice towels, the bathroom has hidden potential to be a great space for art. Depending on the use of a particular bathroom, you can opt for different feels when selecting ornamentation for the walls. A half bathroom could do with more fun or quirky embellishment to amuse guests, while you could use calmer pieces to create a more serene feel for a master bathroom. Choosing pieces that play with light colors can open this small space up and give it the illusion of being bigger. Lighter colors reflect more light than dark colors do, giving the room an airy feeling. This can be perfect for creating a peaceful environment to pamper yourself in or get ready for the day.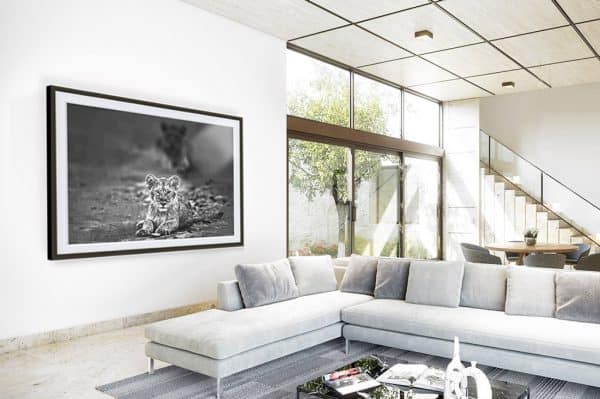 VIEW MORE BLACK AND WHITE ANIMAL PICTURES FOR YOUR HOME
In Conclusion
Going about selecting art for your home can be especially daunting, but it can be comforting to know that ultimately you can't be wrong about art that you truly love. Your personal style and what ornamentation attracts you go above all else and give you the final say in what to put on display in your personal space. Common rules of thumb like matching your art to your decor or maintaining the same color scheme are being broken more and more as trends and tastes change. Part of the beauty in art lies within its subjective nature, which really does leave it up to the interpretation of the viewer and gives you the freedom to curate your home as you wish.
View our wildlife fine art print collections below
Horses | Lions | Tigers | Elephants | Monkeys | Bears | Birds | Snowy Owls | Arctic Wolves | Mountain Lions | Musk Oxen | Bald Eagles | Bison | Reindeer | Arctic Fox