For the last year or so we have all spent more time in our homes and many have taken on home renovation projects. We have all gotten accustomed to our surroundings and are now probably bored of them. The furniture that you bought when you first moved in might be showing its age and your home decor might not be as interesting anymore. Like many people, you might be feeling inspired to renovate your home and breathe new life into your space. Maybe you don't want to take on a huge project just yet or you want to take your time redesigning your home. If you're looking to change the feel of a room while keeping it simple, consider using art. Perhaps the most versatile tool when it comes to home renovation, art has near infinite possibilities for redecorating.
Upgrade Your Rooms
One of the great things about good art is that it takes command of a room. If you walk into a room with a really captivating piece of framed art, you notice it before anything else. That's the one of the biggest advantages of placing art at eye level. Even if the other aspects of the room are average, the room can look tied together and elevated with art. This is where you might want to invest in a piece that you really love and feel will brighten your mood whenever you see it. Alternatively, you can use art to upgrade your rooms and make them more functional. For example, you can use smaller framed pieces to create a display on empty shelves. If a room doesn't have enough windows, place framed nature or wildlife art where one would go.
Open Up Your Rooms
There's definitely an element of balance that you do have to maintain when adding art to a room. Depending on your taste, you might want to fill up your walls with all your favorite framed art or keep it clean. If you've been feeling cooped up in your house, you can utilize art to open up the space. Scenes of nature, wildlife art, or more simplistic pieces can help bring tranquility to a room. Neutral tones and black and white color schemes can also achieve this uncluttered look.
Re-discover Your Home
While you might not want to spend very much time indoors at all, you can make it as enjoyable as possible. One way to do this is to take advantage of the more forgotten spaces in your home. Maybe your drab office has been less inviting than your couch or bed. Bring in some art you love and give meaning to the room. Rooms where you do chores or work, like the laundry room or kitchen, could use something to make them feel more inviting. We often ignore rooms that don't get a lot of foot traffic or guests. However, if you want to make the most of your home you can add art that revitalizes these rooms. There's no need for your favorite pieces to only hang in the living room or dining room. Add that same energy to rooms that you frequent and make them as personalized and welcoming as you'd like. 
At the end of the day, your home renovation can be as intense or fun as you'd like. Don't be afraid to start slow by picking just a few pieces. Experiment with different styles, colors, tones, wildlife art, or photography. Art is a great tool for recreating the style and aesthetic of your home that also isn't permanent. So don't take renovating with art too seriously, and just focus on creating a space that you truly enjoy.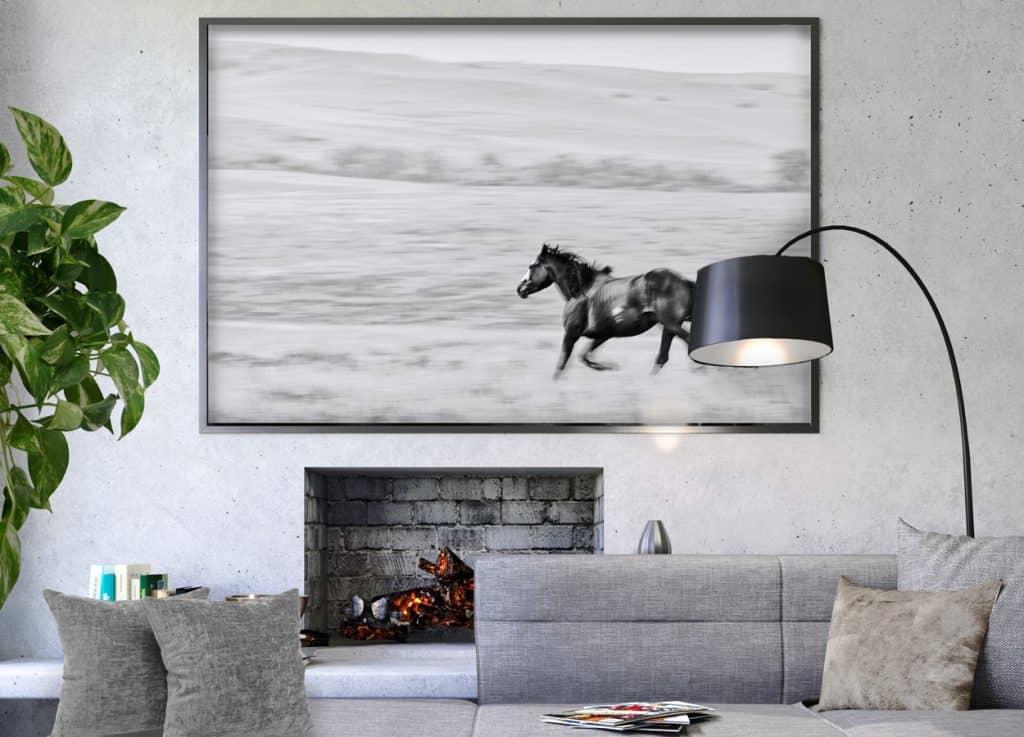 If you enjoyed this article, take a look at our recent BLOG POSTS
Follow the journey on social media INSTAGRAM FACEBOOK YOUTUBE