Arctic Wolf fine art prints are some of the most admired wildlife fine art available today. This comes as no surprise to us. These exceptional animals bring into any interior a wide range of emotions. If you want to express strength, majesty, fun or family interaction wolf art prints are what you should consider.
These Arctic wolf prints give a distinct personality to any room. You simply need to decide what emotion you want to express in your room. For a dining room, you might choose wolf cubs playing together. For a den you may prefer a wolf family preparing for hunting prey. You can be assured that whichever wolf art prints you select that they will certainly capture your friends attention.    
10 Reasons Why You Should Consider an Arctic Wolf Print for Decoration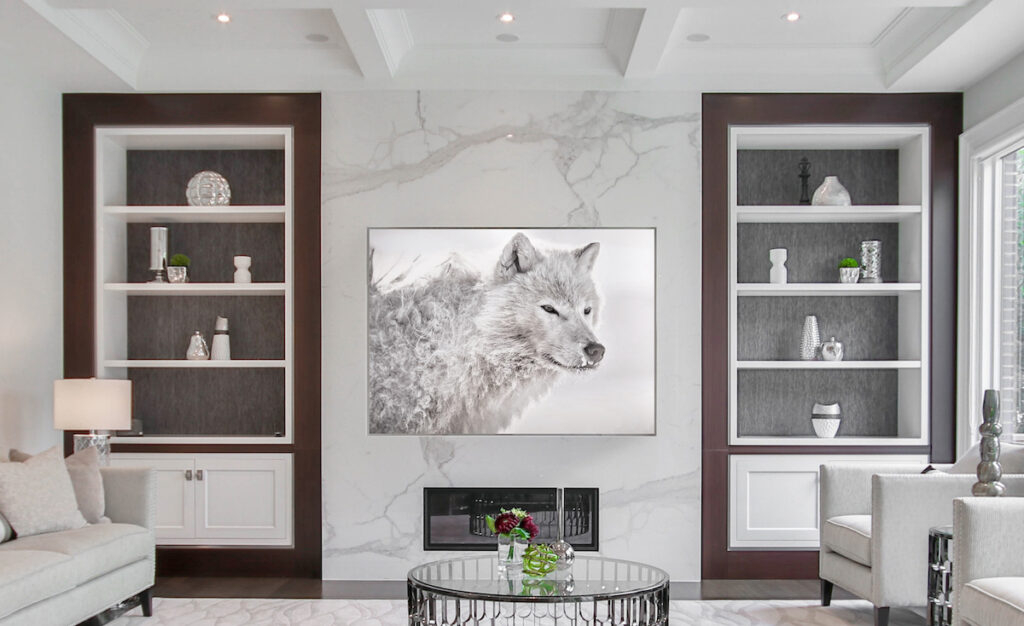 Wolf art prints will do for your interior design things that no other wall art can. It is one of the few animals from the natural world that demands one's attention. The majesty, strength, and interest that wolf fine art brings into any room are mind-blowing!
The wolf pack seen in wolf art prints has a drama unto itself. In our wolf fine art collection, you can choose from countless images that show the wolves in their natural habitat. These wolf prints capture exciting moments in the life of a wolf pack that most of us will never see.
1. Beauty
Wolf fine art prints are simply beautiful! To have images of these creatures on your walls will bring enchantment and excitement into any room.Our wolf prints in snow are a favorite choice for living rooms, dining rooms and family rooms. Their sheer beauty of the wolves in their natural surroundings effortlessly brings into our homes an original beautiful sight to behold.
2. Define your room
Selecting wolf art prints will make a definite statement regarding what you intend to express in your space. Our wolf fine art prints can bring into your space any emotion that you choose to express.
3. Originality.
When your intention is to express originality, selecting wolf art prints is the choice for you! Most people often want to have an animal theme for their interiors. However, they rarely consider wolf prints. Usually, they want a more conventional animal such as the horse. Once they see our wolf fine art they are excited and decide on wolf prints.
4. A striking choice
If your idea is to bring drama into your interior then look no further! Our wolf art prints will do the trick! We have wolf fine art that shows the wolf pack hunting, chasing prey, wrestling, and much more. You can be sure to find many exclusive captivating wolf prints to your liking.
5. A natural choice
Deciding on a theme from nature is always a good idea. Our wolf prints and wolf prints in the snow in particular transport the natural world into your home. We always react to nature in a positive way so it is always a good idea to have a natural theme.
6. Stunning wolf portraiture
In certain particular instances having a frontal or side view of a wolfs portrait can decisively have a strong impact on a room. It can define and dominate any room. If your intention is to have wolf fine art that makes an extremely big impression this would be a good choice.
7. The wolf pack in action
The wolf pack in action ignites any room for you! Our wolf art prints bring life and excitement into your home. The outside world is instantly brought inside with a wolf pack racing toward its prey. This wolf fine art is breathtaking and is sure to capture anyone's attention.
8. Bringing the wolfs environment into our home
Wolf prints in snow will surely bring anyone into the wolf's environment. We all usually forget about the frozen tundra where wolves live. These animals are able to withstand living in this sub-zero climate. Our wolf art prints bring to our rooms and our minds, their daily reality. An interesting advantage of wolf prints in snow is that white is the dominate color which gives you the freedom to have it paired with all other colors.
9. Wolf artwork
Wolf fine art is found in drawings, paintings and photographs. For your Interior you will be able to choose what best suits your taste as there are endless examples of wolf fine art to select from.
10. Dazzle your guests
Wolf art prints will surely attract your guest's attention! The spirit and excitement that they cause will make your interior design noteworthy to all. For sure you will be "the talk of the town!"
Conclusion
Our hope is that we have provided you with useful information for deciding to use wolf art prints in your interior design plan. From our experience in helping our customers, we want to assist you in your decisions for decorating your home. Our mission is not only to provide unique animal art for your walls but to help you in your overall decorating plan.